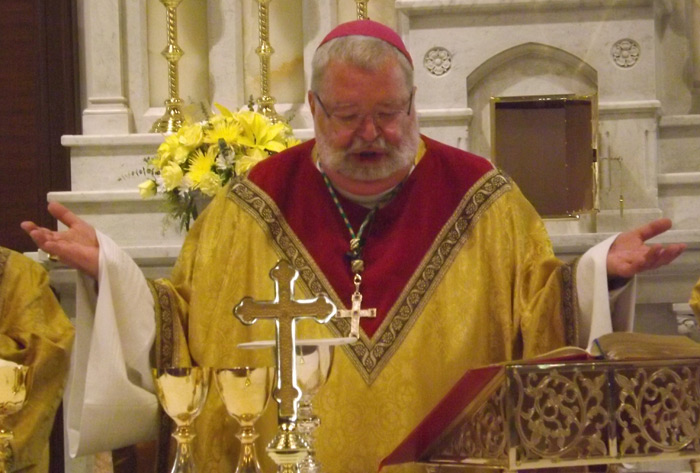 Immaculate Conception Church opens its new building doors in style. Photo gallery
HERE.
From the October 6th edition of the Manito Review:
Emmanuel's Warehouse
Emmanuel's Warehouse Monthly Drive Thru Food Pantry will be serving on Saturday, October 10th, 2015 at the American Legion (201 South Broadway Street, Manito, IL) from 12:00 noon till 1:30 p.m. Remember no proxies unless approved by President Dave Cragger or Rosemary Palmer. Emmanuel's Warehouse is for those in need in the Midwest Central communities.
Please call Rosemary Palmer at (309) 545-2423 for any needed information.
Fright Night Volunteers Needed
Don't be a creep unless you plan to be one at this year's Fright Night in Forest City. SIGN UP NOW! To sign up phone 309) 340-4858 or visit Fright Night The Sequel on Facebook to leave a message. Help is needed decorating scenes, wiring the scenes, ticket taking at each gate, actors, actresses, and with maintenance during operation. So CALL NOW and thank you for your support.
Tri-County JFL Tackle Schedule
Sat., Oct. 10th - Level: Pee Wee; Opponent: Marshall County; Location: Lacon Park Pool.
Sat., Oct. 10th - Level: Junior Varsity; Opponent: Morton Silver; Location: Morton JFL Field.
Sun., Oct. 11th - Level: Varsity; Opponent: Peoria Heights; Location: Peoria Heights HS.
Sat., Oct. 17th - Level: Pee Wee; Opponent: Bloomington-Normal; Location: Chiddix Junior High (Normal).
Sat., Oct. 17th - Level: Junior Varsity; Opponent: Bloomington-Normal; Location: Chiddix Junior High (Normal).
Sun., Oct. 18th - Level: Varsity; Opponent: Chillicothe; Location: Home.
Sat., Oct. 24th - Level: Pee Wee; Opponent: Dee-Mack; Location: Home.
Sat., Oct. 24th - Level: Junior Varsity; Opponent: Woodruff; Location: Home.
Sun., Oct. 25th - Level: Varsity; Opponent: BYE; Location: BYE.
Sat., Oct. 31st - Level: Pee Wee; Opponent: Peoria Heights; Location: Peoria Heights HS.
Sat., Oct. 31st - Level: Junior Varsity; Opponent: Peoria Heights; Location: Peoria Heights HS.
Sun., Nov. 1st - Level: Varsity; Opponent: Pontiac; Location: Pontiac JFL Field.
*Home games are played at the San Jose Park (old High School).
Fourth Annual
Trunk or Treat in Manito
The fourth annual Trunk or Treat will be held from 5:00 to 7:00 p.m. on Halloween night Friday, October 31, 2015
What is a Trunk or Treat? This is where people gather in large area such as a blocked street. Here they open their trunks or the back of their vehicles and pass out candy. Many even wear costumes and decorate their trunks.
This provides a safe area for the children. They do not have to worry about cars. It also offers the opportunity for the elderly and disabled to be a part of the season. They do not have to continually be up and down answering the door and do not have to be concerned about those at their door. Also those from the rural areas who would like to see the costumed children will have a place to do so. It is a great opportunity for fellowship as the parents can accompany their children.
Plans are to block Washington Street with Village Board approval between State and Mason Streets from 4:30 until 7:30 p.m. Costume judging will begin at 6:00 p.m. Cash prizes will be given to four age groups: 0-3, 4-6, 7-9 and 10-12 in four categories: Seasonal, Original, Scariest and prettiest. Refreshments will served.
Donations can be mailed to Trunk or Treat, PO Box 540. Manito IL 61546.
If you would like to be a part of this event monetarily or as a participant, or if you want more information please call 309-657-8667 .
Ham & Bean Supper
The Green Valley Presbyterian Church will be having a Ham & Bean Supper on Wednesday, October 28, 2015. Menu includes Ham & Beans, Cornbread, Dessert & Drink for a donation. Serving time is from 4:00 p.m. to 6:30 p.m. at the Green Valley Presbyterian Church, 300 S. Church St., Green Valley, IL. Carry outs will be available but please bring your own containers. The church is handicap accessible. Proceeds will benefit the Women's Mission projects.
Pumpkin Patch is Coming!!!
Mark your calendars now for October 10th-11th when Pumpkin Patch will be held sponsored by the Forman Junior Women's Club. If fall is your favorite season don't miss this BIG event. This year's Pumpkin Patch will feature hundreds of homegrown pumpkins, decorative gourds, squash, corn stalks, straw bales, and many other seasonal items. For those who love fall foods, we will have apple cider, homemade taffy apples, ham and beans and chili cooked over an open fire served with corn muffins, delicious kettlekorn, cookies, pies, etc. We also have a fire pit for roasting your hot dogs!! Bring the family down and enjoy a day of festive food and fun!!
Pumpkin Patch is located on the Manito Blacktop just south of the Catholic Church and across from Subway in Manito. This year we ask that you please be respectful of the newly built church and park in the designated parking areas ONLY!! Hours are Saturday, 10/10/15 from 10-6, and Sunday, 10/11/15, from 10-5.
Proceeds from this event go to our "Christmas For Kids" program held in December. Hope to see you there!!!!
Order Your Veteran Brick
Engraved Veterans bricks may now be ordered to be installed before Veterans Day at the Green Valley Veterans Memorial.
Order forms are available at the Green Valley Village Hall (Mon-Fri, 8:00 to 1:00) or by calling 309-352-4290 or 309-224-8513.
Orders must be in by October 20.
Meeting Changed to October 7th
Regarding Playground Equipment at Veterans' Park
Due to scheduling conflicts, the Manito Mapping Council is holding its meeting on Wednesday, October 7, at 5:30 p.m. at the Village Hall to discuss a project to upgrade the playground equipment and other park issues at Veterans' Park.
In addition, if anyone else in the community is interested in helping or providing ideas, please feel free to attend. There has been much discussion concerning the equipment and a suitable play area for little children and their families.
Questions: please contact Nancy Proehl (jdandnancy65@gmail.com) or 309-208-4246.
Manito-Forest City Rotary Club Senior Dinner
The Monthly Manito-Forest City Rotary Club Senior Dinner will be held on Friday, October 16. The dinner will be held in the back room at Hawk's Grove at noon. The meal is open to the public. There is a small fee for the meal. Nickerson Insurnace is the sponsor for the month. A reservation is required to be made by Oct. 12th to Lynn Coers at Rickett Grain. You can call during normal business hours at 309/597-2331 or email to lynn@rickettgrain.com. Please plan on joining the group.
We Can Help Over 220 People!
The National Honor Society of Midwest Central High School would like to thank students, faculty, and community members for donating 74 pints of blood at the American Red Cross blood drive on September 24, 2015. As a result of your donations, over 220 people can benefit from this life saving gift. The highest number of pints ever collected at an NHS sponsored drive was 77 so we were within reach of that mark!
When you donate at a National Honor Society sponsored event you are aiding those in need of blood products and helping our members earn college scholarships. We will be hosting the spring drive in March 2016 and look forward to seeing you then to help us set a new record!
As you are planning your fall holiday activities don't forget to take time to donate at the next community drive currently scheduled for November 19, 2015 from 1:00pm to 5:30pm at the Forman Center.
Midwest Central High School Presents
ONCE UPON A MATTRESS
On October 22, 23, and 24th Midwest Central High School will perform the Rodgers and Hammerstein musical ONCE UPON A MATTRESS. The show will be performed at Forman Center in Manito and will begin at 7:30 p.m. each evening. Before the Saturday performance we will be serving dinner theater which will begin at 6 p.m. Tickets for each evening's production are available at the door. However, dinner theater tickets must be purchased in advance and will be sold on Wednesday October 14th at 7 a.m. in the high school lobby. Dinner tickets are non-refundable.
ONCE UPON A MATTRESS is the adult version of the fairy tale "The Princess and the Pea". It is strictly for fun, full of energy, and appropriate for all. The cast is made up of over 65 Midwest Central students who are working hard on song and dance. We hope you will plan to attend.