From the Oct. 28th edition of the Manito Review:
Emmanuel's Warehouse
Emmanuel's Warehouse served 129 families on October 11, 2014. We were blessed with volunteers! Students from Mrs. Thomas's FFA group were a tremendous help along with some of the usual dependable helpers that always respond. The truck arrived an hour earlier and the helpers pitched in and had it unloaded very quickly. Our pantry had received a large quantity of donated canned goods along with purchasing vegetables and other items that makes up the necessity of a full nutrient meal. Our Peoria Food Bank Truck brings us many different items to compensate each family in need. We try to see that each family in line has the needed quantity per person to feed them and not be hungry.
Our receiving lines (families) are increasing and it is our mission to see they have food to accompany the food stamps or means of getting food to fill their needs. This necessitated our board members to hold a Special Meeting to be sure we could fulfil1 this. We were overwhelmed with seeing the food be distributed equally as usual procedure and fill next month, some changes are in order. The paper that is filled out per name per family showing names at some address and baskets per some families represented doubly. Therefore there will be "NO" proxies (only for people presenting them directly to me (Rosemary Palmer) and calling ahead)! – This way the food will fill all orders -If you can't come to the Pantry we want you to call either Dave Crigger or Rosemary Palmer during the day. It will be delivered to you. We don't want any one going hungry. We hope this will help solve the problem. Emmanuel's Warehouse next food distribution is November 8, 2014 - Noon unti1 gone. If you miss the time of distribution please contact 309/545-2423 (Rosemary Palmer) or 309/241-8765 (Dave Crigger). If able to help be at Manito's American Legion by 9:30 or so. The truck comes at 10:00 a.m. to unload.
Need baggers and carriers. There will be designators at the door to direct food from truck to correct table. No one (helpers) takes food for themselves until everything is taken out of the truck and everyone is signed in. Helpers should not leave their cars parked in front of the building. Each person gets the same items. God provides. Rosemary Palmer will help those in need of transportation if have no legitimate answer as to why. You have to be there to get your own food unless approved by Rosemary Palmer (309/545-2423). Please when signing the clip board complete name, address, and town. "Some names show same household address on the clip board... We have too many needing food. Please honor each other! People to be served are to be residents of Midwest Central School District area only."
A blessed Thanksgiving. Watch for next article in paper if want to know particular information as to date, etc. Please check with Dave Crigger or Rosemary Palmer.
See you November 8, 2014. May God bless you all. Keep safe! God loves you and we are there for you too!
Forest City Community Church Bazaar & Cookie Walk
"Food for the Soul" is the theme for this year's Forest City Community Church Bazaar and 8th Annual Cookie Walk which will be held on Saturday, November 22, 2014, from 10 a.m. to 2 p.m. at the church. Start thinking about all those homemade goodies -- cinnamon rolls, caramel rolls, cookies, etc., and be sure to mark your calendars for the big day! More information to follow.
Meet the Raiders
The MCHS Student Council will be collecting canned goods at Meet the Raiders on Friday, November 14, 2014 at 5:30 p.m. All items collected will be donated to Emmanuel's Warehouse, the local food pantry. Come on out and cheer your Raiders on at Meet the Raiders!
Count Down to Pastry Puffins Fundraiser!
BACK BY POPULAR DEMAND! This year's fundraising event for the National Honor Society of Midwest Central High School will be the return of Pastry Puffins! Puffins will be available to order from November 4th 2014 through November 12th 2014. Delivery will be November 25th 2014.
Pastry Puffins are a snap to prepare; you simply take them out of the freezer and pop them into the oven! Each Puffin comes individually sized so that you can select the desired number of Puffins and put the rest back in the freezer. Enjoy these warm toasty treats on Thanksgiving morning while you prepare the turkey; as a delightful dessert for guests; or as a delicious snack after a long day at school or work. They come in several different flavors: one savory (Mozzarella) and seven sweet flavors (Apple, Blueberry Cream, Caramel, Cinnamon, Cream Cheese, Cherry, and Strawberry Cream)
Proceeds of the sale of Pastry Puffins will be used to fund National Honor Society member events such as the Induction Ceremony and Celebrating Seniors as well as the purchase of membership awards. Funds will also be used to support NHS participation in community events such as the semiannual blood drives, Snow Buddies, Trunk or Treat and other special projects as they occur.
Mark your calendar for November 4th! To order please see a National Honor Society member or contact Linda Doty at the high school by phone at (309) 968-6766 or by email at doty@midwest central.org Appreciation in advance for your support.
Medicare Part D, Open Enrollment Assistance is Available
On Friday, November 7, 2014, staff from the Area Agency on Aging for Lincolnland, and Senior Services of Central Illinois will be available at Spoon River College in Havana to assist individuals with Medicare Part D enrollment. Appointments are available between 8:15 a.m. and 4:00 p.m. for staff to review Medicare Part D plans, and help make sure individuals are enrolled in the most cost-effective coverage to meet their needs. Spoon River College is located at 324 E. Randolph Street, Havana, Illinois.
To schedule an appointment, contact the Area Agency on Aging at 217-787-9234 or 1-800-252-2918.
Food Vendors Needed for December 5 Event
The First Friday on Broadway committee met recently to begin planning "It's a Wondrous Life in Manito" event on Friday, Dec.5. The celebration will be held on Broadway and Market in local businesses, Willett's Winery, Egypt Station and Signature Wood. All of downtown will be decorated with trees, garlands of greens, pole decorations and hundreds of lights.
More volunteers are needed. If anyone would like to provide help on the committee, please contact Deb Kalhammer or Paula Charlton.
All food and the evening's program will occur inside out of the cold in the banquet room at Willett's Winery. Other food vendors are also needed. So far, Immaculate Conception plans to serve chili, vegetable soup and hot dogs; Forest City Church will serve mashed potatoes and chicken and noodles, and the Junior Women's Club will sell roasted nuts.
Entertainment will be provided by Robin and the Rhythmic Percussion from 6-9 p.m. at Willett's. Other musicians are welcome to play with the group.
Santa Claus and lots of prizes are also included in the evening.
The next committee meeting is 5:30 p.m. Tuesday, October 28th at Manito Hardware. Please feel free to attend.
Soup Supper at St. Paul's Lutheran Church in Manito
St. Paul's Lutheran Church, 21819 NCR3300E, Manito, IL, will hold their annual Oyster Stew/Chili Supper on Wednesday, November 12th from 4-7 p.m. They will be serving Oyster Stew, Chili, Hot Dogs, Chicken Salad, Pies and Cakes and drink. The ladies groups of the church will have a bazaar, bake sale, Christmas cards and miscellaneous items for sale as well.
32nd Anniversary Week Revival at Good Shepherd Baptist Church
The Good Shepherd Baptist Church of rural Manito, Il would like to invite you to our 32nd Anniversary Week Revival. The meeting will be held Wednesday Nov 5 through Sunday November 9.
The speaker will be Pastor John Gibson from Jerseyville, Illinois. There will be great special music each evening, and there will be refreshments and fellowship after every service!
The week will conclude with our 32nd Anniversary Sunday on November 9th. Services will begin at 10 with special music, testimonies of remembrance, and a message by Bro Gibson. A HUGE potluck dinner will follow the services. The day will conclude with a short praise and worship service after the potluck.
Pastor John Worsham and the congregation if the Good Shepherd Baptist Church would like to welcome you to help us celebrate 32 years of God's blessings. The church is located in rural Manito at 32530 County Road 2180 North (also known as Nichols Road). For more information call the church at 309-968-7103.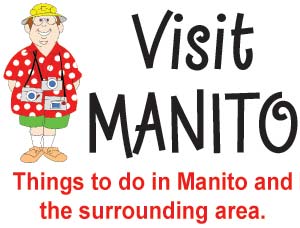 Third Annual Trunk or Treat in Manito
Plans are progressing for the third annual Trunk or Treat which will be held from 5:00 to 7:00 p.m. on Halloween night Friday, October 31, 2014
What is a Trunk or Treat? This is where people gather in large area such as a blocked street. Here they open their trunks or the back of their vehicles and pass out candy. Many even wear costumes and decorate their trunks.
This provides a safe area for the children. They do not have to worry about cars. It also offers the opportunity for the elderly and disabled to be a part of the season. They do not have to continually be up and down answering the door and do not have to be concerned about those at their door. Also those from the rural areas who would like to see the costumed children will have a place to do so. It is a great opportunity for fellowship as the parents can accompany their children.
Washington Street will be blocked to all motorized traffic between State and Mason Streets from 4:30 until 7:30 p.m.
Rosemary's costume judging will begin at 6:00 p.m. Cash prizes will be given to four age groups: 0-3, 4-6, 7-9 and 10-12 in four categories: Seasonal, Original, Scariest and prettiest. Refreshments will served by the Fire Department.
Donations can be mailed to Trunk or Treat, PO Box 540. Manito IL 61546.
If you would like to be a part of this event monetarily or as a participant, or if you want more information please call 309-657-8667.
---