IT'S A WONDROUS LIFE IN MANITO CELEBRATION ON DEC. 5


"It's a Wondrous Life in Manito" kicked off Friday, Dec. 5th with audience participation caroling. The evening included many prize drawings, a live band, pictures with Santa, balloon art, food and gifts at Signature Wood and take home crafts for the kids at Egypt Station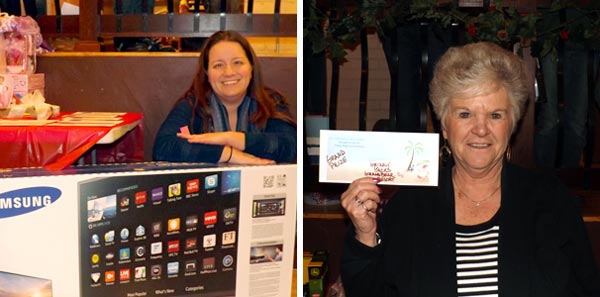 Grand Prize winners were Amy Owens with the 40" television and Sandy Morton with the trip to Grizzly Jack's Grand Bear resort in Utica, IL. An extensive gallery of photos from the night's festivities can be found HERE.
From the Dec. 9th edition of the Manito Review:
Celebrate Christmas with Candlelight and Carols at Green Valley
The Green Valley United Methodist Church hopes to welcome you to a Christmas Candlelight Worship Service at 5 pm on Wednesday December 24, 2014. This Christmas Eve worship will share the Christmas story through scripture and Christmas Carols. You and the community are invited to this celebration of Christ's birth.
These events will be held at the Green Valley United Methodist Church located at the corner of Church Street and Toboggan Road, 100 West Main Street in Green Valley, Illinois. You are invited to attend.
Tri-County Junior Football News
Tri-County Junior Football would like to thank our parents, our coaches, volunteers who did concessions, manned the chain gang, etc. But we want to issue a special thanks to the San Jose Park District board of directors for all they do for us, much that we do not see. They let us use a building, the concession area and of course the field. We have had our second successful season and we could not have done it without SJPD. Thanks, Bill Wiemer, Director of Tri-County JFL.
Senior Meal
The Manito/Forest City Rotary Senior Meal will be held December 19th at 12 Noon at Hawks Grove. For Reservations call 597-2265.
Emmanuel's Warehouse
God bless each and everyone during our Advent Season. We have been blessed by the Rankin School children and all other contributors. They collected 854 canned goods (7 carts full). We can't thank the caring people enough in our community that enable us to give food to our needy families at this time of the holidays. We received monetary donations from the volunteers of the Forman Fire and ambulance and the Methodist Church. We can't forget the monetary donations we receive every month from a caring person of our community. Donations make it possible for us to continue our work.
The food basket distribution will be held on Saturday, December 13, 2014 at noon at the Manito Fire Station located at 205 N. Broadway, Manito. Please note the CHANGE OF THE LOCATION!
Please be advised that recipients for baskets must be residents of the Manito-Forest City area that are included in the MIDWEST CENTRAL SCHOOL DISTRICT.
There will also be a clothing and toy giveaway at the American Legion on December 17th at 10:30 a.m.
Any questions call Rosemary Palmer at 309/545-2423. God Bless you. Keep safe. We love and care about all of you.
Green Valley Toilers/Purple Ribbons 4-H Club
JD and Ashleigh Janssen reported on the county records awards program that they attended. Ashleigh Janssen, Riley Jester, and JD Janssen received certificates for project achievement. JD Janssen also received a plaque for "Best Kept Record Book" in the senior division.
Officers elected for the coming year are: President: Heather Sassman; 1st Vice president: Taylor Canada; 2nd Vice president: Ashleigh Janssen; Secretary: JD Janssen; Treasurer: Damion Hoffman; Reporter: Riley Jester; and Historian/Scrapbook: Montana Rich.
Olivia Gerrietts was welcomed as a new Clover Bud member.
The next meeting will be a pizza making and Christmas caroling party on Saturday, December 13th at 4:00 p.m. Anyone who would like to make a Gingerbread House should plan to meet at 3:00 p.m.
All meetings are held at the Methodist Church which is at the corner of Church and Main Streets in Green Valley.
Children as young as five years old can join a special program as a 4-H Clover Bud. Boys and girls between the ages of eight and eighteen are traditional 4-H members.
4-H offers numerous educational and fun projects that provide for a "hands on" learning experiences. Projects are selected by the 4-H member so learning is tailored to meet the needs of each individual.
Interested youth and their parents are encouraged to attend our pizza making party learn about all of the programs that are offered.
For more information, you may contact the local leaders: George and Vivian Gerrietts at 352-3000 or Darlene Curry at 352-2025.
Riley Jester, Reporter