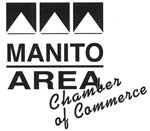 On behalf of the Manito Area Chamber of Commerce, thank you for your continued support of our organization. We would like to invite you to our annual meeting that will include "spotlight" presentations by two of our area businesses and their history.
When: Wednesday, February 22, 2017
Where: Manito Banquet & Party Center (formerly Willett's)
5:30 p.m. - social
6:00p.m. - dinner and 7:00 p.m. – program
Cost: All paid chamber members will receive
2 free meals – additional meals will be $12.
Dinner: Italian Ranch Chicken or Smoked Pork (buffet style)
Please confirm your reservation by calling Anthony Parkin at Havana National Bank at 309-968-1113 by Friday, February 17th.
There is no cost if you would just like to come at 7:00 for the program.
We will be collecting dues and giving out the 2017 year plates for your membership plaques. If you are missing a year plate from previous years, we'll have those plates available as well. Feel free to bring your dues check to the meeting. (Dues = $40)
Not only is this time for us to have dinner together, it's also a networking opportunity. If you have any give-a-ways or business cards you'd like to share, please bring them along. Just one more opportunity to get your name out there!
We hope you can join us! If you have any ideas for the Chamber, please feel free to contact any board member and make this a great 2017.
Sincerely,
Anthony Parkin
Chamber President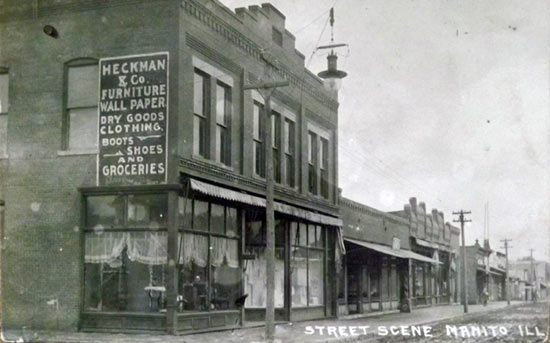 Welcome to the Village of Manito, Illinois
The Village of Manito was surveyed and platted in 1858. It consisted of 110 acres. From its inception, the railroad played an important part in the growth of Manito. A depot, post office, and other private enterprises soon formed a "Main Street" in town that over the years was the commercial center of Manito.
Manito is now a progressive community with a population of 1,733. The original "main Street" still exists and houses many new and progressive businesses. Also, a new "Commercial Marketing" area has grown up along Adams Street or the Manito Blacktop that includes a bank, savings and loan, grocery, general stores, churches, service stations and more.
Manito is primarily an agricultural community. Most of the business in the Village is in some way related to agriculture. The diverse soil in the area leads to a broad range of crops and farming methods. To the North and East of Manito are several thousand acres of peat that is so rich that at one time in the Village's history it was dried, processed and bagged. The Dirt Factory can still be seen off in the distance. To the North, West and South of Manito lies sand. Sand is ideal for the growing of melons and Christmas trees which, over the years, have brought some notoriety to the area. Irrigation has been available in the area since the 1950's with center pivots starting in the early 60's with 110 ft. deep wells pumping 1000 gallons of water per minute. Irrigation has enhanced agriculture in the area by tapping into the aquifer which flows beneath the area. Today, because of modern farming techniques, scientific fertilization and irrigation, some marginal land has been brought into full production.
Great schools, recreation facilities, hunting and fishing areas, civic organizations, friendly neighbors and hometown pride make Manito a great place to live and raise a family.