From the Mar. 4th edition of the Manito Review:
Mason Co. Retired Teachers to Meet
Mason Co. Retired Teachers will meet Tuesday, March 11th at 12 noon, Trinity Lutheran Church, 110 S. Park Ave. in Manito. Featured speaker will be Lisa Sheehan from Habitat for Humanity. The new Region 10 Director, Rosemary Perdew, has been invited - along with Area 4 Rep. Roger Hampton.
Reservations need to be called in by noon on Friday, March 7. Havana - Marilyn Stout - 309-562-7428; Midwest Central - Wilma Embree - 309-241-6265; Illini Central - Sandra Pottorf - 309-562-7245. (NOTE THE CHANGE OF CONTACT FOR THIS MEETING)
Charles Beebe Scholarship
Applications for the Charles A. Beebe Scholarship Fund may now be picked up at Midwest Central High School or at Manito Community Bank in Manito. Applications must be filled out and returned to Manito Community Bank, PO Box 646, Manito, IL 61546 no later than May 15, 2014. You must be a graduate of Forman High School or Midwest Central High School and be furthering your education to qualify for this scholarship.
First "Friday Night on Broadway" Meeting
The "Friday Night on Broadway" committee will have its first meeting Thursday, March 13th at 5:30 p.m. at Egypt's Station. This meeting is to organize our Pork Chop Sales and Junk in the Trunk which starts in June and start to think about Christmas. We are always looking for new people, so if you are interested come to our meeting March 13th. We would love to have you join us.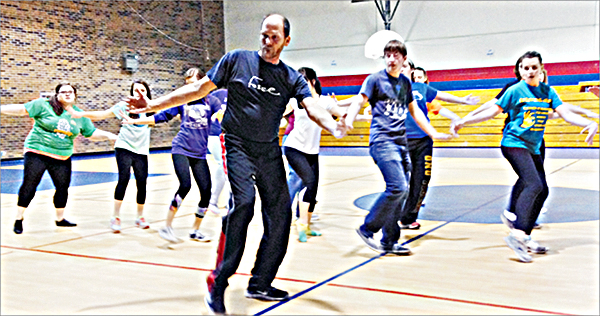 A Night of Broadway Coming to the Forman Center
Pictured are choreographer Dan Fisher and some of the members of the Forman Community chorus preparing for the "A Night of Broadway". The show will be held on March 27, 28, and 29 at Forman Center in Manito beginning at 7:30 p.m. The show will feature music from a variety of Broadway shows including, Les Miserables, Babes in Arms, Wicked, Guys and Dolls and many, many others.
On Saturday night we will offer a dinner theater prior to the show. The menu is salad, chicken marsala, boursin mashed potatoes, green beans, cheesecake, rolls and drink. Tickets for the dinner may be purchased from any member of the chorus or by telephoning 309-968-6139.
Historical Society Meeting
The Manito Historical Society will meet Monday, March 10th at 6:30 p.m. in the Forman Valley Library.
Any interested persons are welcome to attend.
World Day of Prayer Event at Forest City
The Women's Activity Group of the Forest City Community Church will host a World Day of Prayer on Friday, March 7, beginning at 9:00 a.m. at the church. A light breakfast will be served at 9:00 a.m. in the church basement followed by a program in the church sanctuary. All women of the community are invited to attend. If there are any questions, contact the church office at 597-2111.
Forman Fire Protection District Seeking Donations
Forman Fire is seeking donations for the purchase of a new Thermal Imaging Camera. The older one that we did have on engine 40 is outdated and has recently broken and can no longer be repaired due to it being obsolete. This is a very expensive item for the department to purchase on its own and our budget is stretched very thin as it is with the necessity of updating our equipment and apparatus to better protect our community. This camera will be used for search and rescue operations. With this technology we will be able to find a missing person. This camera identifies body heat in dark smokey environments. This camera can also help us insure that we have put a fire out completely, because it shows us the increased temperatures in the house in places that we may not be able to see otherwise.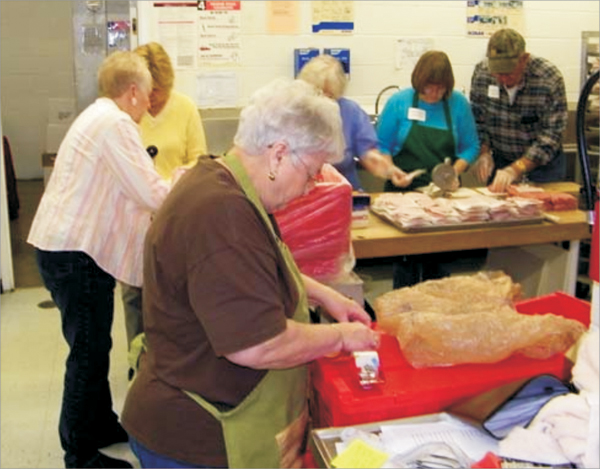 2014 Pancake & Sausage Day
The 2014 Popcorn Committee Pancake & Sausage day was a huge success with the help of a lot of great people.
Approximately 500 meals were served. All meat was sold and we ran out of raffle tickets.
Raffle prize winners were: Nancy Roots - $100.00, Anne Hayford - $75.00, Scott Kalhammer - $50.00, Julie Arttus $20.00, Mary Livengood - $20.00, Ed Markham - $20.00, Kathy Embree - $15.00.
Without the great help of all the people listed here, the day would not be possible.
Registered helpers included - Committee Members: Dorothy Kreiling, Rayeann Meeker, Judy Richardson Lacey, Ken Lacey, John Parkin, Brody Bernshausen, John Bernshausen, Deb Bernshausen, Lee Lacey.
Community Members: Virgil Dawson, Larry Whitehouse, Peggy Quick, Tex Sundereland, David Eslinger, Marvin Quick, Charlene Nall, Bill Livengood, Julie Moore, Cari Meeker, Sandy Morton. Ruth Rademaker, Ross Kreiling, Frank Vaughn, Loma Burks, Nancy Proehl, Kate Nunn, Jim Kinzer.
We really appreciate Mrs. Heinhorsts efforts to enlist the volunteer help of the following young adults from Midwest Central High School. They were great!!
HISTORY LEAGUE: Jacob Figge, Gage Kolves, Kendall Graff, Josh Graff, Tommy Schureman, Anna Sanford, Emily Waddell. Kylie Reagan, Katie Lee, Emmalee Lewis, Brady Messman, Austin Moore, Joe Hohenshell, Terri Heinhorst, Dirk Heinhorst, Colleen Corr. BAND: Kerrigan Kosmider, Cassie Mundekis, Eryn Jacobs, Chuck Vanderlinder. BOTH BAND AND HISTORY LEAGUE: Dakota Howard, Julia Jacob, Jenna Fisher, Rhiana Passmore, Jill Berg, Makenzie Rendleman, Makala Lane. FFA: Jamie Kracklow, Lexius Bortell. MWC Helpers: Diane Jones and Clint Nehmelman.
Everybody did a wonderful job and we greatly appreciate it.